Use for Young Women, Young Men, Seminary/Institute, Family Home Evening, Primary Sharing Time, Activity Days
ACTIVITY: My Smooth-Sailing Family
(Lovey's-Landing S.O.S. Game)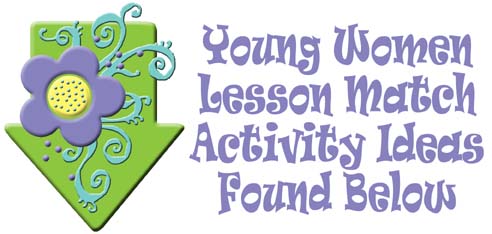 Objective: Tell youth or children, that their family like the Lovey family, can learn to love one another and get through the rough waters or storms of life. We can do this by solving our problems through parking our boats at the right docks: Faith, Prayer, Repentance, or Forgiveness."
TO PRESENT:
1. Divide players into two teams and have teams take turns drawing a boat from the container and reading it aloud.
2. The player's team can help them decide the best solution to the problem and move their boat to that dock/solution: Faith, Prayer, Repentance, or Forgiveness.
3. If they land at the right dock they earn a point for their team. If not, the other team has a chance to answer by moving their boat to the right dock. After all are answered, the team with the most points wins!
TO MAKE: Print activity in color or black and white. Put boat dock together. Then laminate the boat dock and boats and cut out boats. Place boats in a container to draw from. Have double-stick tape or magnets (if mounting on the chalkboard) ready to mount boats on docks.
TESTIMONY SHARING: SEE QUESTION* BELOW. Ask youth to share their testimony on the following. Ideas: How can I find solutions to my challenges and problems? "Self-reliance includes the ability to find solutions to our own problems and challenges. Many of these solutions are found in the restored gospel of Jesus Christ. Our Heavenly Father is mindful of the challenges we face. He loves us and wants to help us. We should pray for guidance as we seek answers to our challenges in the scriptures and the words of the prophets and apostles."
THOUGHT TREAT: Banana Love Boats. Slice 1-4 bananas in half like you are making a Banana Split, only instead of ice cream you can add a few squares of chocolate and small marshmallows and melt in the oven 1-2 minutes. Top with a paper sail with a toothpick inserted. The sails could read words on the game above: Faith, Prayer, Repentance, Forgiveness.
More Learning Activities:
See A-Z INDEX (on the above menu to find activities on subjects: FAITH, PRAYER, REPENTANCE, FORGIVENESS)
Great Church Videos to Share:
• Mormon Channel
• Mormon Messages
• Bible Videos
• Homefronts – TV Spots

YOUTH TESTIMONY SHARING: Ask youth to share their testimony on the lesson subjects below. Click on the QUESTION* next to "Come, Follow Me" Lesson to lead you into a discussion or the sharing of testimonies.


Presenting Activity to Young Women or Young Men
To download all YOUTH activities go to:
All "Come, Follow Me" Activities - Jan - Dec
To download all FAMILY HOME EVENING activities go to:

To download all ACTIVITY DAYS activities go to:
"Faith in God" Activity Days STORE
"Faith in God" Activity Days INDEX
To download all SINGING FUN song visuals and activities go to:
Source ST.2004.8
Faith – Prayer – Repentance – Forgiveness: LDS Lesson Activity: Lovey's-Landing SOS Game – Come, Follow Me – Find Solutions to Challenges and Problems