Use for Young Women, Young Men, Seminary, Family Home Evening, Primary Sharing Time or "Faith in God" Activity Days
ACTIVITY: My Ant Farm Leisure Time Activity Log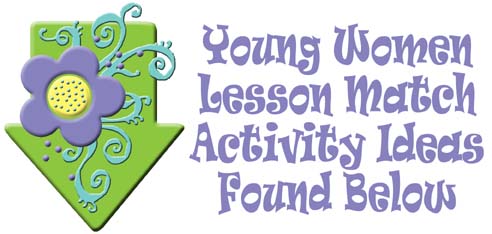 Description of Lesson Activity: Tell youth, "Eternity is won or lost in our leisure time." Youth can record on this log activities that are a wise use of time. Then in their free (leisure) time they can do these things. Have youth study the ideas, circle those they want to do in the next few months, and add to the list as they think up other leisure time activities. Have them schedule chosen activities during their free time.
This way they will have something to do and have something to look forward to each day. Talk about "dovetailing" activities (doing two things at once).
Note: This My Ant Farm Leisure Time Activity Log can be given to youth during a picnic (see below*).
Dovetail Ideas: While talking on the phone, mend or sort socks, iron clothing, wash the dishes, or clean room. During the television ads, do your nails, put on a face mask, read, exercise, drink water, or memorize. While doing homework, drink plenty of water and eat an apple or healthy snacks. While cleaning, listen to church music or practice your singing. While waiting for a friend or driving in your car, memorize test material (placed on cards ahead of time).
TO MAKE: Print activity in color or black and white.
THOUGHT TREAT: Ants on a Log. Cut up celery 4-inches in length, fill center with peanut butter or a flavored cream cheese spread; place raisins, chocolate covered raisins, or miniature chocolate chips on top to look like ants.
More Learning Activities:
*LEISURE PICNIC TO TALK ABOUT LEISURE TIME: Have a picnic indoors or outdoors.
1. Call ahead and ask every youth and leader bring: (1) a sack lunch, (2) a blanket, and (3) ideas to share of leisure-time productive activities and leisure-time time-wasting activities.
2. Decorate by enlarging drawings of ants and placing one on each blanket.
3. During the picnic, talk about industrious ants and how they don't waste their leisure time. Have each youth and the leaders stand up and share their ideas.
4. Give youth the above Leisure Time Log handout activity during the picnic.
See A-Z INDEX (on the above menu to find activities on subjects: EDUCATION, FAMILY, GOALS, SERVICE, TALENTS, WORK).
Great Church Videos to Share:
• Mormon Channel
• Mormon Messages
• Bible Videos
• Homefronts – TV Spots

YOUTH TESTIMONY SHARING: Ask youth to share their testimony on the lesson subjects below. Click on the QUESTION* next to "Come, Follow Me" Lesson to lead you into a discussion or the sharing of testimonies.


Presenting Activity to Young Women or Young Men
USE IN NOVEMBER:
November: "Spiritual and Temporal Self-Reliance"
"The power is in them, wherein they are agents unto themselves" (D&C 58:28).
*OCTOBER "Come Follow Me" Lesson: What does it mean to be self-reliant?
To download all YOUTH activities go to:
All "Come, Follow Me" Activities - Jan - Dec
To download all FAMILY HOME EVENING activities go to:

To download all ACTIVITY DAYS activities go to:
"Faith in God" Activity Days STORE
"Faith in God" Activity Days INDEX
To download all SINGING FUN song visuals and activities go to:
SOURCE: YW2.43
Work – Talents – Self-Reliance: LDS Lesson Activity – Come, Follow Me – "What does it mean to be self-reliant?