Use for Young Women, Young Men, Seminary, Family Home Evening, Primary Sharing Time or Activity Days
ACTIVITY: Sabbath Day Planner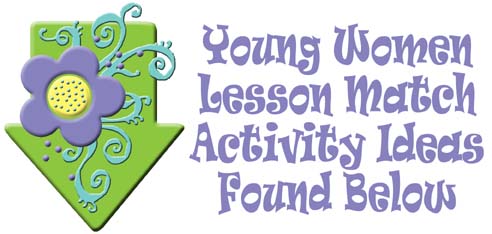 Ask youth to think of how they are measuring up to Sabbath day activities. Are the activities spent in doing good? Are they spiritually uplifting? Would Jesus do these activities on the Sabbath?
Have youth write on this planner:
(1) What they would do on Saturday to prepare for the Sabbath, (2) Activities to do on Sunday to keep the Sabbath day holy.
TO MAKE: Print activity in color or black and white.
THOUGHT TREAT: 7th Day 7 Candy Reminder. Give youth 7 candies (e.g., M&Ms). Have them eat 5 pieces of candy. As they eat #6, have them tell something they can do to prepare for the Sabbath. As they eat #7, have them name a worthy Sabbath day activity.
TESTIMONY SHARING: See QUESTION* below. Ask youth to share their testimony on the following. Click on the following website objective to introduce the testimony sharing (that follows): Why are we commanded to keep the Sabbath day holy? "The Lord has given the Sabbath day for our benefit and has commanded us to keep it holy. Observing the Sabbath shows our commitment to honor and worship God and keep our covenants. It will bring us closer to the Lord and to our family. It will give us an eternal perspective and spiritual strength. The Sabbath also allows us to rest from our physical labors and worship the Lord."
More Learning Activities:
With these ideas and those of the youth, you should be able to make each Sabbath day memorable.
MAKE A SABBATH DAY QUIET BOOK FOR CHILDREN: Invite someone who does quiet books to come with supplies to show youth how to make them. Youth can give quite books to a charity, donate them to a ward family or the nursery, or save them for their own children someday. Have youth write a short poem about how they feel about the Sabbath. Use fabric paints to write on inside cover. Serve veggies and dip (an easy Sunday treat).
SABBATH DAY SHOW-AND-TELL IDEA NIGHT: Have youth bring games and activities they like to do with their family. They can present a family home evening idea, gospel game (or any game their family enjoys), scripture activities, and more.
Ideas: ~ Bible Bingo (make up your own game) ~ scripture chase ~ give a sharing time lesson from the Friend ~ make thumbprint pictures of animals found in the scriptures ~ share journal entries ~ review missionary discussions ~ write letters to missionaries or family and friends ~ tell stories about ancestors or show an object that belonged to an ancestor ~ make a gospel grab bag by looking up favorite scriptures and placing them in a bag ~ make a testimony time capsule by writing testimonies, burying them in a container, and digging them up before graduating from the youth program.

MEMORIZE SCRIPTURE: Teachings of Jesus Bring Happiness – John 15:11 – DOWNLOAD SCRIPTURE POSTER / CARDS
VIDEO: Keeping the Sabbath Day Holy – The Clayton Christensen Basketball Story
VIDEO: Keeping The Sabbath – (Mark 2:23-28) President Gordon B. Hinckley teaches the importance of keeping the Sabbath day holy. (1:05) CLICK HERE TO VIEW VIDEO FROM YOUR I-PHONE.

SING USING SONG VISUALS TO DOWNLOAD:
• I Will Follow God's Plan (CS, 164)

YOUTH TESTIMONY SHARING: Ask youth to share their testimony on the lesson subjects below. Click on the

QUESTION*

next to "Come, Follow Me" Lesson to lead you into a discussion or the sharing of testimonies.



Presenting Activity to Young Women or Young Men
To download all YOUTH activities go to:
All "Come, Follow Me" Activities - Jan - Dec
To download all FAMILY HOME EVENING activities go to:

To download all ACTIVITY DAYS activities go to:
"Faith in God" Activity Days STORE
"Faith in God" Activity Days INDEX
To download all SINGING FUN song visuals and activities go to:
Source YW1.25
Sabbath Day – LDS Lesson Activity – Sabbath Day Planner – "Why are we commanded to keep the Sabbath day holy?"