Use for Young Women, Young Men, Seminary/Institute, or Family Home Evening
ACTIVITY: Eternal Marriage quiz/puzzle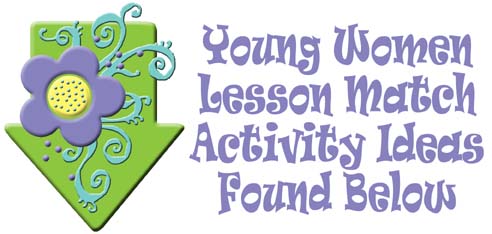 Have youth put both puzzles together at the same time, reading the clues that indicate which puzzle it belongs to.
The puzzles represent: (a) Reasons young people give for wanting to marry in the temple and (b) Reasons some do not marry in the temple. Talk about the difference between the brides' and grooms' smiles and the feelings they may have for the choices they make to marry in the temple or outside the temple.
TO MAKE:
Print activity in color or black and white. Color center and cut out two puzzles for each youth and place in an envelope.
TESTIMONY SHARING: Ask youth to share their testimony on the following. Click on the following Church website objective to introduce the testimony sharing (that follows): Why are temple ordinances important? "Temple ordinances lead to the greatest blessings available to Heavenly Father's children. These ordinances prepare us to live forever with Heavenly Father and our families after this life. They bless us with spiritual power and direction during mortality. In the temple, we can also receive essential ordinances in behalf of ancestors who died without having the opportunity to receive these ordinances for themselves."
More Learning Activities:
"SET-YOUR-SIGHTS HIGH" TEMPLE-TALK:
1. Gather youth in a pleasant setting with temple pictures around the room or displayed on tables.
2. Set out the scriptures as well as articles from Church magazines on the temple and eternal marriage. Divide into groups to find scriptures and read articles, etc., and report the various points they discover. Give each youth a blank sheet of paper and a pen to write the important points they find.
3. Assign youth leaders to share what they have learned.
4. Talk about inner strength and how we can resolve to always set our sights on the temple.
5. Discuss appropriate dress and talk about the questions in a recommend interview.
"SWEET BLESSINGS" TEMPLE CAKE: Bake a sheet cake and frost it. Cut it into squares and place a temple or heart shaped mints or candy on top of each square. As youth enjoy the cake, ask them to think of the sweetness that comes to mind as they imagine themselves married for time and all eternity to the person they will someday come to love and cherish.
VIEW "GREATEST DECISIONS" TALK: Life's Greatest Decisions – September 7, 2003: President Thomas S. Monson addresses young adults about decisions regarding faith, marriage, work, and following the prophet. (20:07) CLICK HERE TO VIEW TALK ON I-PHONE.
VIDEO: Eternal Marriage—Tammy and Kyle – Tammy and Kyle talk about their eternal marriage. (1:27) CLICK HERE TO VIEW VIDEO FROM YOUR I-PHONE.

Presenting Activity to Young Women or Young Men
USE IN JULY AND AUGUST:
July: "Ordinances and Covenants"
*QUESTIONS "Come, Follow Me" Lesson: Why are temple ordinances important?
August: "Marriage and Family"
"Marriage between a man and a woman is ordained of God and … the family is central to the Creator's plan for the eternal destiny of His children" – "The Family: A Proclamation to the World"
*QUESTION "Come Follow Me" Lesson: Why is a temple marriage important?
To download all YOUTH activities go to:
All "Come, Follow Me" Activities - Jan - Dec
To download all FAMILY HOME EVENING activities go to:

To download all ACTIVITY DAYS activities go to:
"Faith in God" Activity Days STORE
"Faith in God" Activity Days INDEX
To download all SINGING FUN song visuals and activities go to:
Source: YW 1.18
MARRIAGE – Eternal Marriage: LDS Lesson Activity – Eternal Marriage quiz/puzzle – "Why are temple ordinances important?"