Preparing Activity Day Girls for Young Women
13 pages (color/black-and-white visuals, instructions – INCLUDES INVITATION)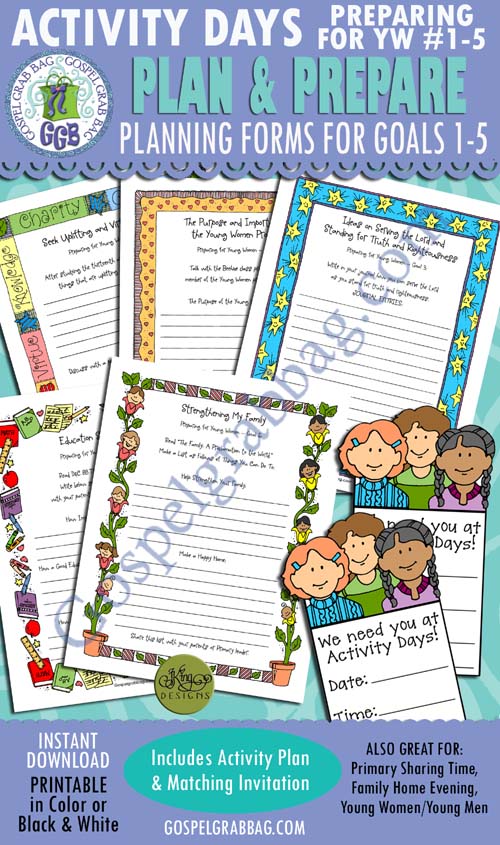 OBJECTIVE: Help girls complete the following activities while they are 11 years old. Activities with planner forms will help them prepare to become a righteous young woman and participate in the Young Women Personal Progress program.

GO TO EACH FORM BELOW TO FIND MORE IDEAS (to present each form).

SPECIAL ACTIVITY to introduce Goals 1-5 and present 5 planner forms:
1. DOWNLOAD and Print Invitations and Planner Forms: Give invitations ahead of time. You can print planner forms in black and white or color. DOWNLOAD set includes: 1 invitation and 5 planner forms (to purchase click the Buy Now button above).
2. Present Goals Using Forms. Have a different parent or leader take 10 minutes to present each goal, giving girls the black and white planner form for each goal. Tell them that when they pass off the goal they can receive a colored form to fill in their progress to keep in their scrapbook. (See Goal #2 and invite a beehive leader/class president or Young Woman leader to present this one.) This can be done on a Stake level with 20 girls – 2 or more in each workshop. Rotate classes and then serve group refreshments. Click on the subjects below to find ideas for each goal presentation).
3. Ideas to Present Forms. To present ideas, click on the various planner form subjects below. Have a leader present each planner form and ideas pertaining to that form. Encourage girls to take home and post black and white forms on their mirror and work on them and fill them in.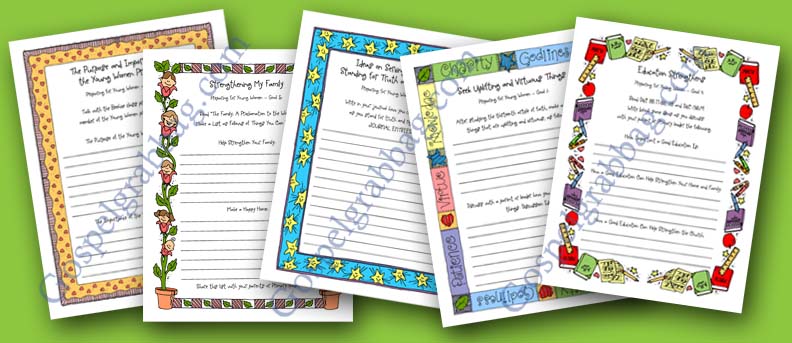 4. Passing off Goals. Have an individual meeting where girls meet with their Activity Days leader to pass off the five goals. Then give them the colored version of the form to fill in and post in their room or place in a scrapbook.
THOUGHT TREAT: MIA Mutual Improvement Association Cookies.
Tell girls that MIA does not mean Missing in Action – just the opposite (don't miss the important activities in the Young Women Program that are just for you). The term MIA refers to the Mutual Improvement Association or "Mutual." MIA was once the name for the youth program in the Church, which we now call YOUNG WOMEN or YOUNG MEN. The word "Improvement" in the MIA initials reminds us that every time we attend Young Women we IMPROVE – we become a better person each time as we apply the gospel principles taught, and make new friends with our peers and leaders.
COOKIE OPTION #1 – MIA Painted Cookie. Have each girl make a painted cookie to show they are looking forward to when they enter into MIA. See how to make these below.
COOKIE OPTION #2 – MIA Initial Frosted Cookies. Frost the letters M I A on three bite-size cookies for each girl or frost the initials on one larger cookie. To make cookies gluten free you could use ½ part almond flour and ½ part gluten-free flour in your recipe.
To Make Option #1 Painted Cookies: Roll out sugar cookie dough and have girls cut out a rectangular shaped cookie, then paint a picture of something they look forward to in Young Women, e.g., Camp, Fun Activity, Service Projects, Dances, etc. On an oiled cookie sheet, two inches apart bake the cookie 10 minutes at 350 degrees.
To make cookie paint, mix 2–3 tablespoons condensed or canned milk and drops of food coloring for each color. You will need paint brushes that not previously been used to paint with paint.
Goal Planner Forms to Make Achieving Goals 1-5 Easy:
GOAL 1 – Seek Uplifting and Virtuous Things PLANNER FORM (download above – READ MORE to Present this form)

After studying the thirteenth article of faith, make a list of things that are uplifting and virtuous. Discuss with a parent or leader how you can seek after these things.
GOAL 2 – The Purpose and Importance of the Young Women Program PLANNER FORM (download above – READ MORE to Present this form)
Talk with the beehive class presidency or a member of the Young Women presidency about the purpose and importance of the Young Women program.
GOAL 3 – Ideas on Serving the Lord and Standing for Truth and Righteousness PLANNER FORM (download above – READ MORE to Present this form)
Write in your journal how you can serve the Lord as you stand for truth and righteousness.
GOAL 4 – Education Strengths PLANNER FORM (download above – READ MORE to Present this form)
Read D&C 88:77–80, 118 and D&C 130:19. Discuss with a parent or Primary leader how important a good education is and how it can help strengthen your home and family and in the Church.
GOAL 5 – Strengthening My Family PLANNER FORM (download above – READ MORE to Present this form)
Read "The Family: A Proclamation to the World." Make a list of things you can do to help strengthen your family and make a happy home. Share the list with your parents or Primary leader.
THOUGHT TREAT: See ideas on pdf.