To Download: Learning and Living the Gospel – Goals 1-5 . . . GO HERE
To Download: Learning and Living the Gospel – Goals 6-10 . . . GO HERE

To Download: Serving Others – Goals 1-5 . . . GO HERE
To Download: Serving Others – Goals 6-10 . . . GO HERE
To Download: Developing Talents – Goals 1-5 . . . GO HERE
To Download: Developing Talents – Goals 6-9 . . . GO HERE
To Download: Preparing For Young Women – Goals 1-5 . . . GO HERE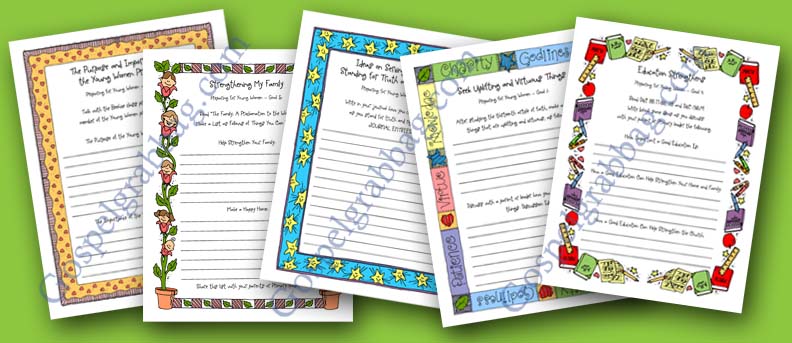 READ BELOW TO LEARN MORE ABOUT WORKING THIS PROGRAM:
"Faith in God" Activity Days for Girls Ages 8-11
HOW THIS SERIES WAS STARTED: The Author, Mary H. Ross was an Achievement Days leader for many years with 10 girls. She and Jennette Guymon-King created a book for this Program. Then the Church created "Faith in God" ACTIVITY DAYS. With her ideas gathered and from many leaders sharing their wisdom, we came up with this complete set of GOAL ACTIVITIES to make goal achieving fun. Each activity coordinates with the PROGRAM GOALS.
Activity Days is so easy with these ready to print-and-use activities from invitations to handouts. Activity Days LEADERS: Helping girls ages 8-11 achieve their "Faith in God" goals just got easier. With instant handouts and a matching invitation, you have a whole KIT for each goal to make goals happen. If an activity is missed, the KIT can be sent to the girl to work on the goals and pass them off at home.
DOWNLOAD ACTIVITIES from the Activity Days Index – 35 "Faith in God" Goals:
How to SHOP for activities or
DOWNLOAD them to your Shopping Cart:
1. Click on Add to Bag (below the activity image).
2. Click the title to find instructions and the Add to Bag button.
3. Shop by category from the Grab Bag STORE.
4. Check out. Must have at least a $2.50 order.
Other Products and Ideas to Teach
"Faith in God" ACTIVITY DAYS:
1. To purchase the Articles of Faith Quizbee (shown right), click HERE. You'll be buzzing along learning the Articles of Faith with 13 memory cards, 14 fun games, and over 195 questions and answers!

2. Also enjoy with girls the Book of Mormon Quizbee (shown below).
3. Don't miss our Faith in God: Super Activity Days and Socials for Girls Ages 8 to 11 (Paperback) by Mary H. Ross, Jennette Guymon-King, shown below (available at LDS bookstores or at deseretbook.com). Click here to order. The CD-ROM shown is not available. There are only a few books left in print and this will not be available again. So, enjoy! You'll love the SOCIAL activities here plus a few extra goal activities you won't want to miss. It's a very big book chuck full of ideas. PREVIEWED AS FOLLOWS:
BOOK'S TABLE OF CONTENTS SUMMARY: 4 Anytime Motivational Activities: Bloom Where You're Planted; Forever Friends! Mending and Keeping Friendship; Getting to Know You!; and Turn Over a New Leaf – 4 Quarterly Recognition Activites: Clowning-Around Carnival; Fishing for Success; Hats Off to You!; You're a Star! – 2 Daddy-Daughter Dates: Buttons and Bows; Dad and Me–Western Jamboree – 2 Mother-Daughter Socials: Mom and Miss "Pig"nic; Dress-and-Dazzle!Mom and Me Fashion Show – LEARNING AND LIVING THE GOSPEL: Goal #8 (1 activity) Gpa; #10 (3 activities) – SERVING OTHERS: Goal #1 (1 Activity); Goal #5 (3 activities); Goal #7 (1 activity); Goal #9 (2 activities) – DEVELOPING TALENTS: Goal #4 (1 activity); Goal #6 (3 activities); Goal #7 (2 activities); Goal #8 (2 activities); Goal #9 (4 activities); Goal #10 (3 activities) – ALL ACTIVITIES HAVE A MATCHING INVITATION.

4. INVITING GIRLS TO ACTIVITY DAYS: WATCH VIDEO on giving someone a "Heart Attack" (pasting hearts on doors) and having girls invite others to Activity Days from the Church Website. Click HERE (or watch video below).
See the Dragonfly "We Missed You!" Postcard to encourage Activity Day girls or Young Women to come to activities. DOWNLOAD HERE.

TO DOWNLOAD MORE ACTIVITIES:
1. Go to the A-Z INDEX (below)
2. Find them all in the . . .
A B C D-E F G H I-J-K L-M N-O-P Q-R S T U-Z
SEE ALL "FAITH IN GOD" ACTIVITY DAYS ACTIVITIES ON PINTEREST.