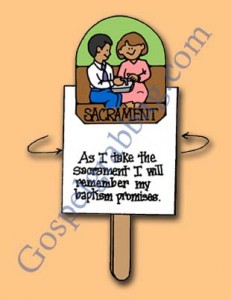 Lesson 33 –
The Sacrament Reminds Us of Our Covenants
CTR-B, Ages 4-7
Use For: Primary Lesson, Family Home Evening, Sharing Time
TO FIND LESSON: Present Lesson 33 – Primary 3 Manual – CTR-A: The Sacrament Reminds Us of Our Covenants.
OBJECTIVE: The lesson helps children realize that taking the sacrament can help them remember the baptismal covenants. Review the picture activity (p. 162) in the manual for which the following activity illustrates.
ACTIVITY: Covenant Flip-card
On one side, this flip-card shows: "As I take the sacrament I will remember my baptism promises," and on the other side in shows: "I promise to : Always remember Jesus, and obey the commandments." Flip it to see children's steps from baptism to participating in the sacrament as a member of Jesus Christ's church.
TO OBTAIN ACTIVITY:
DOWNLOADS ARE NOT AVAILABLE FOR THIS ACTIVITY:
You will need to purchase the Sunday Savers CTR-B book or CD-ROM.
Click HERE to buy it online. Or visit your nearby LDS bookstore.
TO MAKE: Print or copy, color, and cut out the activity on cardstock paper. Fold card in half, glue a wooden stick in the center, and glue halfway up. Then glue pictures on top back-to-back. Fun Option: As shown, this teacher inserted a scripture underlining pencil with double-stick tape. Then children could remove this pencil to underline their scriptures. The sides of the flip-cards were taped also.
THOUGHT TREAT (when appropriate): Promise Cookie or Candy. Press four candies around the outside of a round cookie or just serve four candies. For each candy eaten, have children tell a promise they make at baptism or things they think about during the sacrament.
MORE LESSON ACTIVITIES:
CLICK HERE FOR THE NEXT ACTIVITY: CTR-B LESSON 34 We Can Pray to Heavenly Father.
CLICK HERE FOR THE PREVIOUS ACTIVITY: CTR-B LESSON 32 Remembering Jesus Christ When We Take the Sacrament.
CLICK HERE FOR THE CTR-B TABLE OF CONTENTS. 
The Sacrament Reminds Us of Our Covenants, Primary Lesson Helps, Primary 3 CTR-B, Lesson 33