PART 1


NEW ITEM #1
2018 Sharing Time Theme is "I Am a Child of God," and we have an activity to match every lesson this year. To start planning ahead, start with:
• January Sharing Time
• SCRIPTURE posters/cards
• Song Visuals

NEW ITEM #2
Shown above is our new 2018 Sunday Savers: Sharing Fun! I Am a Child of God book you can purchase in bookstores at the end of November or online. It contains 18 Sharing Time activities to copy in black-and-white. If you want the images in color you will need to purchase them from this website. There is no CD-ROM this year. THE GOOD NEWS IS, you can DOWNLOAD all of there here (in color only). See book cover shown on these. If you want black-and-white images, you will need to purchase the book. START HERE – January.
NEW ITEM #3
2018 "I Am a Child of God" banner, poster and cards, and bookmark (shown) DOWNLOAD HERE.

PART 2
November – 2018 Spotlight


PERSONAL PROGRESS PLANNERS are coming soon found in the "Young Women Fun-tastic! Planners" book. The CD-ROM is no longer available so you can download them here. – COMING SOON
NOVEMBER Come Follow Me – Theme "Spiritual and Temporal Self-reliance". (BUNDLES & individual activities) – Here are 56 activities to choose from starting with these first 8
Lesson 1 "What does it mean to be self-reliant?"
〉 Young Women – 2017 – 2018 January – December
〉 Young Women – Gospel Grab Bag STORE
FAMILY HOME EVENING: All of the Sharing Time activities are great for children and Come Follow Me activities great for youth.
SHARING TIME: We have an activity for every lesson. Start with NOVEMBER and DECEMBER. Then 2018 JANUARY.
This is scheduled for NOVEMBER 2018 – Also great for NOVEMBER 2017:
"Extra-Miler Turkey Blessings Find"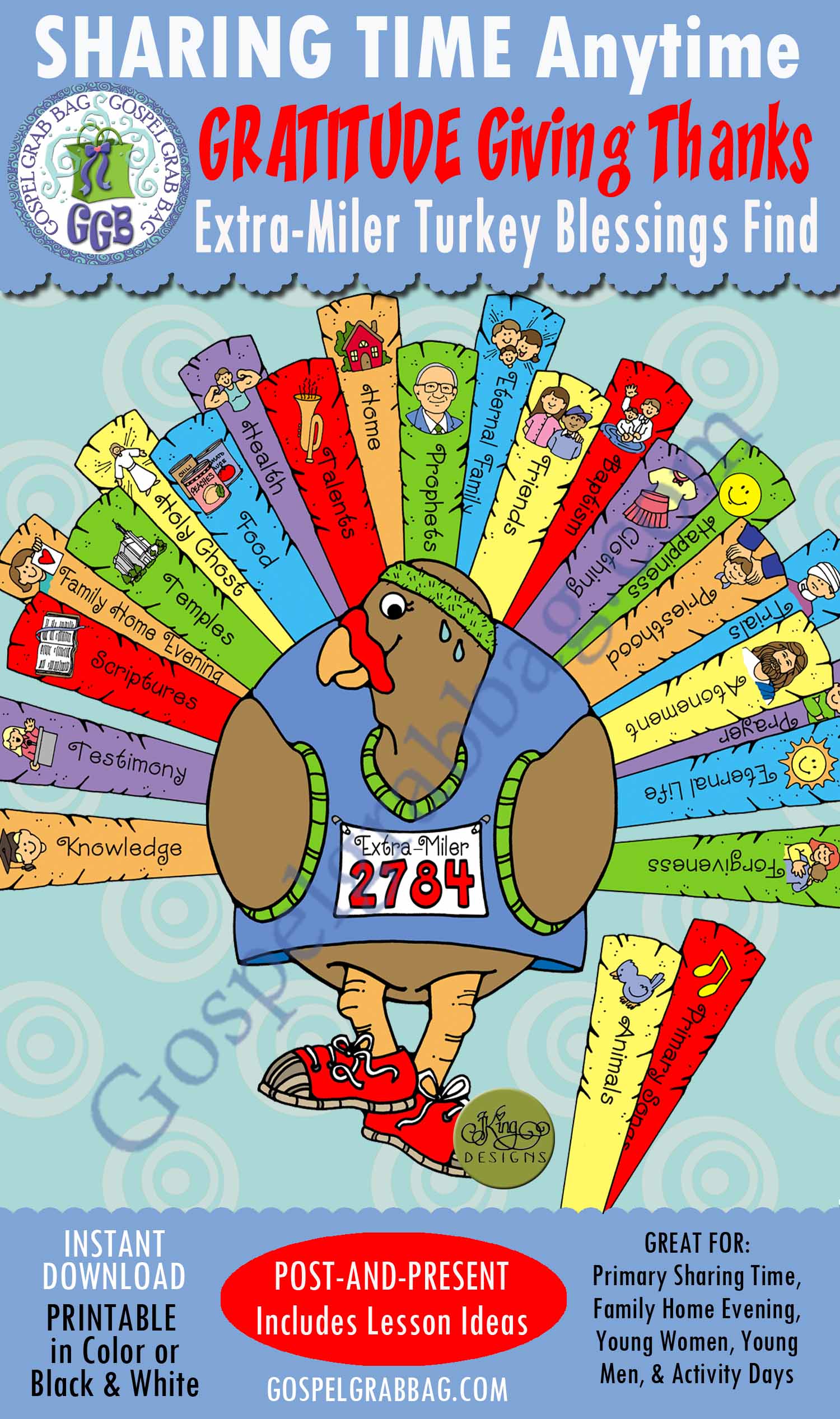 SCRIPTURE POSTERS AND CARDS: We have the monthly Sharing Time Theme scriptures ready for you in a large poster, medium, and card size. Children can view the large poster in Primary and the smaller poster in class. Then take home the black-and-white card size to memorize. Reward them with the colored version of the card.
• NOVEMBER Mark 16:15 – DOWNLOAD HERE
• DECEMBER – D&C 11:28 – DOWNLOAD HERE
• JANUARY 2018 purchase the bundles 1-4 starting with this one for January – March
MUSIC TIME PRACTICE SONGS just got easier with the song visuals fully-illustrated. No more looking for pictures to match the words. They are ready with fun ways to display. Plus we have activities to make singing fun.
• NOVEMBER – "I Hope They Call Me on a Mission" – DOWNLOAD HERE
• DECEMBER – "He Sent His Son" – DOWNLOAD HERE
• JANUARY – "I Am a Child of God" – DOWNLOAD HERE
SONG VISUALS & ACTIVITIES:
〉 SINGING ACTIVITIES to Motivate Singing
〉 Singing Time – Gospel Grab Bag STORE
Our "Super Activity Days and Socials" book is still in print, however the CD-ROM is no longer available. Soon we will hall all activities here to download in color. COMING SOON.
"Faith in God" Activity Days Program for Girls 8-11

〉 Learning and Living the Gospel – Goals 1-10 KITS*
〉 Serving Others – Goals 1-9 KITS*

〉 Developing Talents – Goals 1-10 KITS*
〉 Preparing for Young Women – Goals 1-5 Planners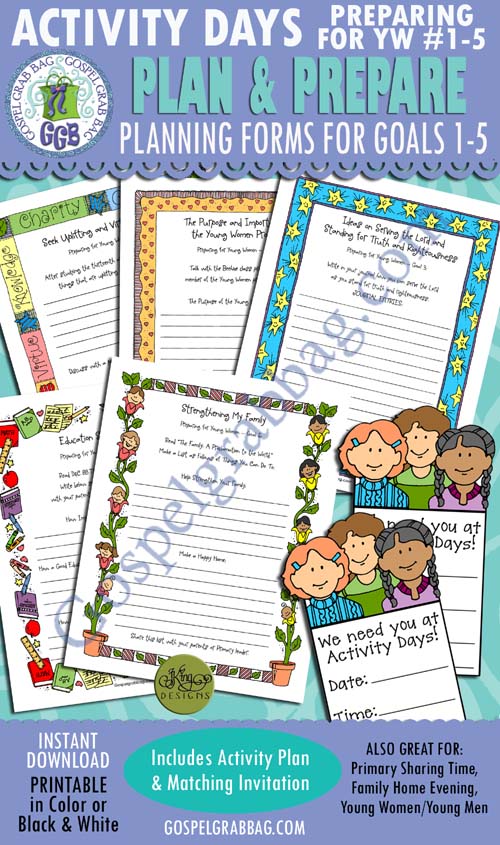 *ACTIVITY DAYS GOAL KITS CONTAIN: Invitation and an activity or two for each goal
For 2017, to teach children ages 8-11 in Primary or in family home evening, we have created the Sunday Savers series of books and CD-ROMs with an activity for every lesson for the manuals (get them while they last). Watch for 2018 series to match every lesson in the manuals 1-7 and Nursery (Lesson 30 shown).


TO CONTACT US: Email your concerns or questions maryrosscontact@gmail.com (or if you wish to unsubscribe)
URGENT CONCERNS: Contact Mary Ross – 1-801-694-6302 (text or call)