Here are some of the new MARCH TREASURES that we have just added to Gospel Grab Bag to DOWNLOAD. We are happy to bring you new activities each month. Hope you like these.
USE FOR: Young Women, Young Men, Seminary, Family Home Evening, Primary Sharing Time or Activity Days
All NEW items are ready to DOWNLOAD now:

NEW
• POST-AND-PRESENT ACTIVITY – SUBJECT: Choices and Consequences – Choose the Right
I Am Free to Choose the Right – Consequences Countenance Game
Description: To realize each choice we make will have a consequence that affects the way we feel. Our feelings show on our face changing our countenance.
NEW
• MOTIVATIONAL CHART – Family Home Evening Chart
WE'RE JUST NUTS ABOUT FAMILY HOME EVENING!
Description: Create a chart to help your family remember family home evening, and to assign responsibilities to family members. Tell family that elephants never forget. They remember paths they once took so they can take them again (elephant walk).

NEW
• ACTIVITY – SUBJECT: Obedience – Choose the Right
I Can "Bee" O-bee-d-ant doorknob hanger and "Buzzzzz your way to heaven! sign for honey taffy treat
Description: This rebus (picture symbol) message: "I can be obedient" will remind youth to choose the right. On the back of the doorknob hanger they will find a FILL-IN-THE-BLANK ACTIVITY to earn about obedience as they search scripture verses. Don't miss the matching BONUS Buzzzzzz your way to heaven! sign for honey taffy.
NEW
• POST-AND-PRESENT ACTIVITY – SUBJECT: Scriptures – The Book of Mormon and the Bible
Two Testaments of Jesus Christ puzzle
Description: Tell that both the Bible and the Book of Mormon testify of Jesus Christ (Articles of Faith 1:8). Ponder: 2 Nephi 29:8 testament of two nations, John 20:31 testament of Jesus, and Acts 10:43 witness from prophets about Jesus Christ (plus more)
NEW
• POST-AND-PRESENT ACTIVITY: – SUBJECT: Prayer
Anytime, Anywhere – Prayer Answers Storyboard
Description: Read true stores about prayer to help youth know they don't need to be by their bedside to pray and ask for guidance.
MORE NEW TO COME NEXT MONTH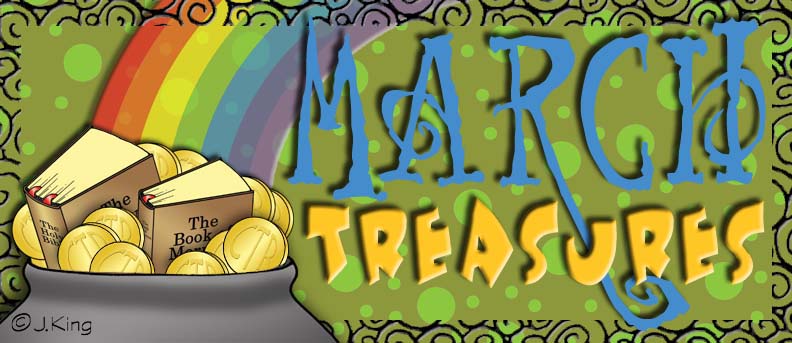 THIS MONTH'S March Treasures – Activities to DOWNLOAD
(or preview books and CD-ROM activities to purchase) . . .

Activities to Add to and Enhance "Come, Follow Me" Lessons
〉 Young Women – January – December
〉 Young Women – Gospel Grab Bag STORE
PRIMARY SHARING TIME – "Choose the Right" Activities to DOWNLOAD
(with the Sunday Savers: Sharing Fun book / CD-ROM you will have an activity for every lesson)
〉 Primary Sharing Time / Family Home Evening – MARCH TREASURES
〉 Primary Sharing Time / FHE – January – December
〉 Primary Sharing Time / FHE ANYTIME – Gospel Grab Bag STORE
〉Primary Extras (banner, posters, bookmarks)
〉 Primary Scripture Posters / Cards – Jan. – Dec. Bundle for 2017
〉 Primary Scripture Posters / Cards – January – December – 2017
〉 Scripture Posters / Cards – A-Z Index
〉 Scripture Posters / Cards – Articles of Faith
〉 Scripture Posters / Cards – STANDARD WORKS:
1. Bible: Old Testament & New Testament
2. The Book of Mormon
3. D&C, Pearl of Great Price, Prophets
Scripture Posters – Gospel Grab Bag STORE
Prepare Children to Sing Songs in Sacrament Meeting Presentation
〉Singing Activities & Visuals for 2017
〉SINGING ACTIVITIES to Motivate Singing
〉 Singing Time – Gospel Grab Bag STORE
"Faith in God" Activity Days Program for Girls 8-11
〉Learning and Living the Gospel – Goals 1-10 KITS*
〉Serving Others – Goals 1-10 KITS*
〉Developing Talents – Goals 1-10 KITS*
〉Preparing for Young Women – Goals 1-5 Planners

*ACTIVITY DAYS GOAL KITS CONTAIN: Invitation and an activity or two for each goal

WATCH FOR NEXT MONTH'S NEW ACTIVITIES PREVIEW
TO CONTACT US: Email your concerns or questions maryrosscontact@gmail.com or gospelgrabbag@gmail.com or visit gospelgrabbag.com and leave a comment. Or, let us know if you want to subscribe or unsubscribe to our month newsletter (email ⇑).
URGENT CONCERNS: Contact Mary Ross – 1-801-694-6302 (text or call)