Gospel Games:
"Families that play together, stay together."



DOWNLOAD our games that teach gospel principles here.
TO PURCHASE THEM – VISIT
OR PREVIEW THEM VISIT
OR PURCHASE GAMES AND QUIZ-BEES ONLINE:
PURCHASE STUPOR CARD GAME
Purchase STUPOR – the quick-thinking LDS game that often leads to a Stupor of thought. You'll find over 250 gospel cards to quickly name an answer (shown).
Game Description: Want to show off your knowledge about the gospel? With STUPOR, you can do it—but if you can't think quickly enough and have a stupor of thought,
you just might miss your chance to win! STUPOR is a fast-paced game that challenges players to blurt out an answer to a subject before their opponent can beat them to it.
GREAT GIFTS for missionaries, baptism, Christmas stocking stuffers or Easter baskets.

PURCHASE QUIZ-BEE DECKS
Purchase ARTICLES OF FAITH QUIZ-BEE a fan-deck (shown below) of 13 picture-perfect memory cards, 14 fun games, and over 195 questions and answers. Again, this is perfect for a baptism gift as children ages 8-11 need to memorize and understand these.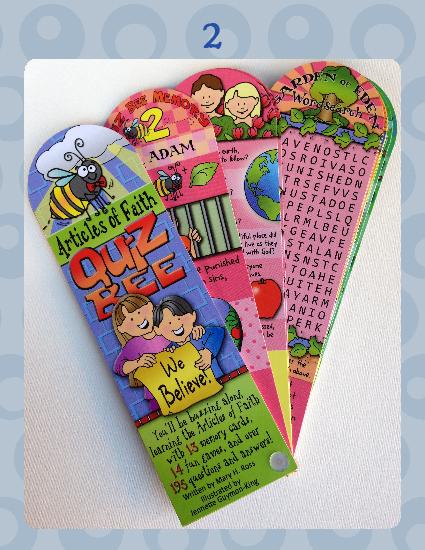 • Purchase BOOK OF MORMON QUIZ-BEE a fan-deck (previewed below) of 28 stories with 195 questions and answers.