ACTIVITIES 1 and 2:
Use for Family Home Evening, Primary Sharing Time, Young Women or Youth, Activity Days*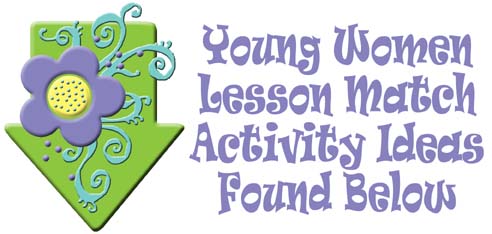 Subject: Entertaining Children, Music, Singing, Childcare
Old McDonald Song and Game (Music and Visuals)
Objective: Youth can entertain young children with songs or games you have learned or made yourself.
Print, color, and cut out the Old McDonald Had a Farm song sheet and the Old McDonald song and game visuals.

• Old McDonald Song Visuals: Use them to teach children this song, placing visuals on sticks for children to hold.

• Old McDonald Game Visuals: With a safety pin, pin a "farmer" or "animal" visual on the back of each child and have them imitate their animal while playing the game.

• To Set Up Game: Place a 1-foot paper circle in the center of the room (a safe spot where one child can stand). Form boundary lines outside circle with strings to make a corral so "animals" don't go too far from the circle.

• To Play Game: Have "animals" (players) run around the circle to keep away from the "farmer" (another player who tries to tag them). To be safe, "animals" can stand in the center spot for 3 seconds. When caught, the "animal" becomes the "farmer," and they switch signs and roles.
Babysitting Basics (poster) and Ducks-in-a-Row (emergency list)

Objective: Youth can show that they know how to care for and protect a young child.
Print and color the Barnyard Babysitting Basics Poster and Get Your Ducks-in-a-Row Emergency List.

• (Poster): Memorize these basics to be a good sitter.
• (Emergency List): Write important things to remember while interviewing parents before they leave.
THOUGHT TREAT: (Barnyard Bread Sticks). Purchase ready-made bread-stick dough or bread dough (to rise) and form into animal shapes. Bake according to directions. Decorate bread sticks by squirting processed cheese from the can to create barnyard animals. Add candies or vegetables to help decorate.
Thought: Review the Babysitting Barnyard Basics (poster) as you eat.
More Learning Activities:
See A-Z INDEX (on the above menu to find activities on subjects: EDUCATION, FAMILY, SERVICE, WORK).
Great Church Videos to Share:
• Mormon Channel
• Mormon Messages
• Bible Videos
• Homefronts – TV Spots
OTHER USES FOR THE ABOVE ACTIVITY:
*ACTIVITY DAYS (Girls ages 8-11 to achieve specific goals): See Learn Babysitting Basics – Activity Days, Serving Others – Goal 5 (includes the invitation shown)
YOUTH TESTIMONY SHARING: Ask youth to share their testimony on the lesson subjects below. Click on the

QUESTION*

next to "Come, Follow Me" Lesson to lead you into a discussion or the sharing of testimonies.



Presenting Activity to Young Women or Young Men
To download all YOUTH activities go to:
All "Come, Follow Me" Activities - Jan - Dec
To download all FAMILY HOME EVENING activities go to:

To download all ACTIVITY DAYS activities go to:
"Faith in God" Activity Days STORE
"Faith in God" Activity Days INDEX
To download all SINGING FUN song visuals and activities go to:
Family – Childcare – Babysitting: LDS Lesson Ideas – Family Home Evening, entertain, care for and protect young children