xProduct()
Use for Young Women, Young Men, or Youth, Family Home Evening, Primary Sharing Time, or Activity Days
ACTIVITY: Traits to Attract a Positive Mate tent-card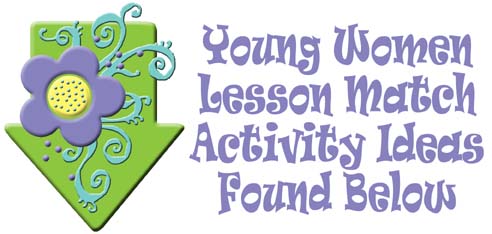 OBJECTIVE: Help youth prepare to receive temple ordinances, and prepare for a temple marriage by developing traits that will attract a temple-worthy mate.
1. Looking on one side of the tent-card, help youth memorize the "Marriage is perhaps the most vital of all decisions" quote from the Prophet Spencer W. Kimball, and talk about making that important decision now and when the opportunity for marriage comes.
2. On the other side of the tent-card youth can list the Positive Traits to Attract a Positive Mate. On the left column, they can list what they want their mate to be and on the right what they want to be. Remind youth that if they want to date and marry a person with the qualities they desire, they too must acquire these qualities. This way they will attract that type of individual to them.
TO MAKE: Print activity in color or black and white. Fold card to stand up.
THOUGHT TREAT: Ribbon Sandwiches. Have the bakery color bread in pink and blue and have it sliced to make sandwiches. Cut it in half and tie a bow around the two sandwich pieces. As they open the sandwich and eat each half, talk about the girl's/woman's roles (pink bread) and the boy's/man's roles (blue bread) in marriage and how each can bring happiness. This is a good time to brainstorm ideas. Share these thoughts/quotes from Thomas S. Monson: "Your influence ranges far beyond yourself and your home and touches others all around the globe." We need to prepare now in three ways according to his talk "Three Goals to Guide You" (Nov. 2007 Liahona). These three goals are: 1) Study diligently 2) Pray earnestly, and 3) Serve willingly. 
More Learning Activities:
SEE ALSO ACTIVITY TO DOWNLOAD:
Temple Preparation tent-card

xProduct()
PANEL DISCUSSION ON DATING: Ask several individuals from another ward (who have been recommended by their bishop) to answer questions on dating and gospel standards. Check For the Strength of Youth and also ask the bishop. Ask youth from your ward to write down their dating questions ahead of time.
"MY MATE" WISH-LIST: Have youth brainstorm about what kind of person they would like to marry. Make this a long list. Then check all qualities that really matter, crossing out or erasing the not-so-necessary qualifications. Last, ask youth if they think they themselves possess these traits. Then explain that they can't expect something of someone if we are not willing to be that too.
LOOK-AHEAD DECISIONS: Talk about dating decisions and how to look ahead at possible situations that might arise. Youth can rely on Church standards to make important decisions (review the "For the Strength of Youth" pamphlet and Church magazine articles on the subject, e.g., "For the Strength of Youth," Ensign, May 2004, 49). Imagine possible sticky situations and how to handle each situation. Tell youth, "You are using your head if you look ahead. Then when the situation comes up, you are ready to respond, sticking to your values. If you are passive, if you haven't made up your mind what you will do, you give others permission to make up your mind for you."
READ THE PROPHET'S WORDS ON SELECTING A MATE:
• Eternal Marriage Student Manual (prophets speak on selecting a mate) Read these and more quotes that every youth should ponder. Here are a few:
1. President Spencer W. Kimball says, "'Soul mates' are fiction and an illusion; … it is certain that almost any good man and any good woman can have happiness and a successful marriage."
2. Counsel for Single Sisters by President Wilford Woodruff (the same advice goes for guys also): "When the daughters of Zion are asked by the young men to join with them in marriage, instead of asking—'Has this man a fine brick house, a span of fine horses and a fine carriage?' they should ask—'Is he a man of God? Has he the Spirit of God with him? Is he a Latter-day Saint? Does he pray? Has he got the Spirit upon him to qualify him to build up the kingdom?' If he has that, never mind the carriage and brick house, take hold and unite yourselves together according to the law of God" (in Discourses of Wilford Woodruff, 271).
SHARE CHURCH VIDEOS ON STANDARDS
SHARE VIDEO – How Do I Love Thee? – Elder Holland gives a powerful talk about how you can better show love for your friends, family, dates or spouse by following the example of Jesus Christ.
SHARE – Families Can Be Together Forever – Increase your understanding of the Lord's purpose for families and of the blessings He makes available to them. (3:10)
SHARE VIDEO – I Choose to Be Pure – Six interfaith youth speak candidly on why they have chosen to be sexually pure. (4:19)

Presenting Activity to Young Women or Young Men 
USE IN JULY:
July: "Ordinances and Covenants"
*QUESTIONS "Come, Follow Me" Lesson:  Why are temple ordinances important?

August: "Marriage and Family"
"Marriage between a man and a woman is ordained of God and … the family is central to the Creator's plan for the eternal destiny of His children" ("The Family: A Proclamation to the World," Ensign or Liahona, Nov. 2010, 129).
*QUESTION "Come Follow Me" Lesson: Why is it important to follow the Church's standards regarding dating?
To download all YOUTH activities go to:
All "Come, Follow Me" Activities - Jan - Dec
To download all FAMILY HOME EVENING activities go to:

To download all ACTIVITY DAYS activities go to:
"Faith in God" Activity Days STORE
"Faith in God" Activity Days INDEX
 To download all SINGING FUN song visuals and activities go to:
Source YW 3.36
MARRIAGE – Temple Marriage: LDS Lesson Activity – Traits to Attract a Positive Mate – ordinances and covenants