xProduct()
Use for Young Women or Youth, or Family Home Evening
ACTIVITY: Everlasting Covenant of Marriage tent card – D&C 131:1-4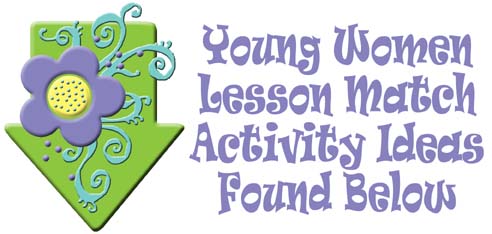 This tent card helps young women to support and encourage their future eternal companion.
Idea #1:  Encourage young women to think ahead to their eternal marriage relationship and how
they might help their companion obtain the highest kingdom. They can support their husband in four ways:  motivating, strengthening, sustaining, and guiding.
Idea #2:  Encourage young women to memorize the scripture on this tent card, D&C 131:1–4. Talk about ways they can support priesthood leaders. Give them time to write on the card ways they can support priesthood leaders.
TO MAKE: Print activity in color or black and white. Color and cut out tent card and fold to stand up.
TESTIMONY SHARING: Ask young women to share their testimony on the following. See *QUESTIONS to follow the lesson objectives below*.
More Learning Activities:
BIKE–N–HIKE: Invite young men to go on a bike and hike. Bike to a park or other location, and surprise young men with a sack lunch. Have young women meet beforehand to prepare two sack lunches, then place lunches in their backpacks along with a tablecloth to spread on the ground. Leaders take the backpacks to the site and place backpacks in the center of a large circle. Young men choose a backpack, find the young woman it belongs to, and enjoy lunch together, sitting on the ground. (But keep this a secret until it's time to eat.)
Sack Lunch Honor Roll (Note): Use large rolls to make sandwiches. Young women can put a note inside the sandwich roll enclosed in a plastic bag for young men to read Create a card to give young men from the following: PRIESTHOOD HONOR "ROLL": This is what I like about a young man who honors his priesthood: _________________________________________
VIDEO: Celestial Marriage Is Essential for Exaltation – President Hunter teaches celestial marriage is essential for exaltation (D&C 131:1-4). (1:22) CLICK HERE TO VIEW VIDEO FROM YOUR I-PHONE.

VIDEO: Elder Nelson Talks About Covenants – Making and keeping sacred covenants is a precious doctrine of The Church of Jesus Christ of Latter-day Saints, according to prophets and apostles who lead the Church. (4:45) He said, "Celestial marriage is the covenant of exaltation" CLICK HERE TO VIEW VIDEO FROM YOUR I-PHONE.
 YOUTH TESTIMONY SHARING: Ask youth to share their testimony on the lesson subjects below. Click on the

QUESTION*

next to "Come, Follow Me" Lesson to lead you into a discussion or the sharing of testimonies.



Presenting Activity to Young Women or Young Men
To download all YOUTH activities go to:
All "Come, Follow Me" Activities - Jan - Dec
To download all FAMILY HOME EVENING activities go to:
SOURCE YW1.16
TEMPLE MARRIAGE: LDS Lesson Activity – Everlasting Covenant of Marriage tent card, priesthood blesses me, temple ordinances, How do the roles of men and women complement each other in families?