Use for Young Women, Young Men, Seminary, Family Home Evening, Primary Sharing Time or "Faith in God" Activity Days
ACTIVITY: Warm Fuzzy Righteous Reminders bookmark and poster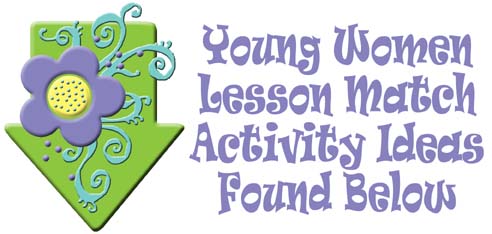 Bookmark. Give each youth a bookmark to remind them to draw close to the Savior by serving Him every day.
Poster. Give youth a Warm Fuzzy mirror motivator to remind them of the six ways we can feel close to the Savior each day. Ask them to share their thoughts about each challenge.
Post the Motivator: Ask youth to post this on their mirror during the week to read and try to live these six challenges every day. As they do, they can cut out a smile sticker and glue the sticker on the pom-pom as a reward.
TO MAKE: Print activity in color or black and white. Fold the tabs and glue envelope together leaving the top flap open. Insert gift cards inside.
THOUGHT TREAT: Warm Fuzzy Fizzies. Give each youth a can of fizzy (carbonated) soda pop to sip as they tell you about the warm feelings they receive when they make a right choice.
TESTIMONY SHARING: SEE *QUESTIONS BELOW*
More Learning Activities:
SMALL ACTS OF KINDNESS: Brainstorm and write down, to preserve in a file for each youth, a list of small acts of kindness they can do for others. Encourage them to look into the mirror and say, "Mirror, mirror, tell me true. Is His image in my countenance too?" As they say this, they can look at the list and perform small acts of kindness.
Ideas: • A sweet anonymous note • A phone call to someone less active • A friendly touch • A smile • Breakfast in bed for a family member • A compliment • Find out someone's favorite goody, make it for them, and deliver with a smile
HAPPINESS GIFTS: Ask youth and leaders to share ideas on how they can be happy by serving others. Place a gift box on the table, labeled, "Happiness is a gift I can give myself as I serve others." Cut a hole in the back of the gift box (or lift the lid) to fill with names of those participating. Draw names from the box to present their ideas. Assign several scriptures to read that tell ways to be happy through service: 1 Nephi 8:10; 2 Nephi 2:13; Mosiah 2:17; 2:41; Mosiah 16:11; Alma 3:26; 27:18; 41:5; 10; 4 Nephi 1:15; D&C 4:2; 76:5.
Ideas: Balance your life with personal care and selfless care (serving others). Focus on grooming self and taking care of personal needs quickly, then serve others. This selfless act of taking your mind off yourself and focusing on others will bring a lasting joy that does not come from self-focus.

YOUTH TESTIMONY SHARING: Ask youth to share their testimony on the lesson subjects below. Click on the QUESTION* next to "Come, Follow Me" Lesson to lead you into a discussion or the sharing of testimonies.


Presenting Activity to Young Women or Young Men
USE IN JULY AND OCTOBER:
July: "Ordinances and Covenants"
"In the ordinances … the power of godliness is manifest" (D&C 84:20).
*QUESTION "Come Follow Me" Lesson: What does it mean to take upon myself the name of Jesus Christ?
October: "Becoming More Christlike"
"Jesus saith unto him, I am the way, the truth, and the life" (John 14:6).
*QUESTION "Come Follow Me" Lesson: How can I become more Christlike?
To download all YOUTH activities go to:
All "Come, Follow Me" Activities - Jan - Dec
See Young Women Activities on PINTEREST
To download all FAMILY HOME EVENING activities go to:

To download all ACTIVITY DAYS activities go to:
"Faith in God" Activity Days STORE
"Faith in God" Activity Days INDEX
To download all SINGING FUN song visuals and activities go to:
Source: YW3.3
Choose the Right – Service: LDS Lesson Activity – bookmark and mirror motivators – Come Follow Me – become more Christlike, take upon name of Christ