Use for Young Women, Young Men, Family Home Evening, Primary Sharing Time, or Activity Days
ACTIVITY:

Try Fasting with Pizza! doorknob fasting reminder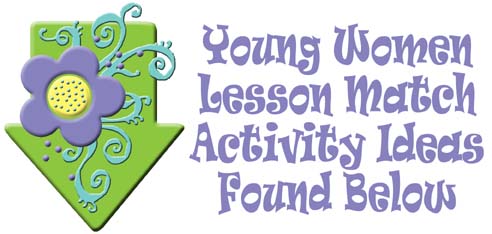 Read Doctrine and Covenants 88:76 and challenge youth to fast and pray each fast Sunday with a purpose. Encourage them to attach this doorknob reminder to their bedroom door or post on the refrigerator to remind them to fast.
TO MAKE: Print activity in color or black and white on cardstock paper.
THOUGHT TREAT: Pizza or Pizza Cookie. If it is not fast Sunday, make and share a pizza or a pizza cookie. PIZZA COOKIE: Create your favorite chocolate chip cookie dough recipe, adding 1/4 cup coconut in place of 1/4 cup flour. Don't stir in chocolate chips. Grease a round pizza baking pan. Spread cookie dough onto pan evenly with a little up to outer edge. Sprinkle cookie with 1/4 cup colored coconut (few drops of yellow food coloring into a plastic bag with coconut; close bag and mix). Sprinkle on top (to look like cheese). Top with chocolate chips and M&M candies. Bake 350 degrees 13-15 minutes. Cut into 12 pizza wedges with a pizza cutter and serve. Serves 12. More Pizza Cookie Ideas
TESTIMONY SHARING: SEE *QUESTION BELOW.
More Learning Activities:
FASTING FACTS:
Gather information and quotes from Church leaders on the proper way to fast, why we fast, and what happens to the body and spirit when we fast. The Ensign and Era magazines are great sources.
FAST TOGETHER WITH A PURPOSE:
1. Select a purpose to fast, either individually or as a group. Youth might choose to fast for a less-active youth they wish to activate, a nonmember they wish to fellowship; a need in the ward or community, or someone's illness or physical challenge.
2. Make a list of reasons to fast.
3. Discuss Queen Esther, who fasted to save her people (Esther 4-5)
SCRIPTURES TO SHARE (Do a scripture chase by writing the description on one card and the scripture reference(s) an another. Have youth match up the action with the scripture. The team with the most matches wins.
GATHER TO FAST AND PRAY (Alma 6:6)

EVERYONE WHO CAN FAST SHOULD FAST, AFTER 8-YEARS OLD (D&C 59:13-15)

FASTING HELPS US FEEL CLOSE TO GOD (Alma 17:3, 9)

FASTING SHOWS FAITH (D&C 88:119, Matthew 6:30-34)

FASTING HELPS US PRAY FOR SPECIAL BLESSINGS (D&C 88:76)

FASTING AND PRAYER HELPS US KNOW THAT THINGS ARE TRUE, BY THE SPIRIT OF REVELATION (Alma 5:46)

FOLLOW FASTING BY PAYING FAST OFFERINGS (D&C 88:119-120, Mosiah 4:19-21, Matthew 25:35-40, James 1:27, Jacob 2:17-19)

FASTING OFTEN DONE WITH OTHERS FOR A CAUSE (3 Nephi 27:1-2, Mosiah 27:22-23)

FASTING SHOULD BE DONE CHEERFULLY (2 Corinthians 9:7 D&C 59:15)

FASTING BRINGS JOY (D&C 59:13)

FAST IN SECRET (Matthew 6:1-4; 16-18)
VIDEO TO SHARE: Wherefore Have We Fasted (Isaiah 58) A young man recounts a lesson learned from his youth. (7:22) You'll love the part where the clock turns into a pizza (illustrating the activity above).
YOUTH TESTIMONY SHARING: Ask youth to share their testimony on the lesson subjects below. Click on the

QUESTION*

next to "Come, Follow Me" Lesson to lead you into a discussion or the sharing of testimonies.



Presenting Activity to Young Women or Young Men
USE IN MAY AND SEPTEMBER:
May: "Prophets and Revelation"
"We believe all that God has revealed, all that He does now reveal, and we believe that He will yet reveal many great and important things pertaining to the Kingdom of God" (Articles of Faith 1:9).
*QUESTION "Come Follow Me" Lesson 2: How do I receive personal revelation?
September: "Commandments"
"Consider on the blessed and happy state of those that keep the commandments of God" (Mosiah 2:41).
*QUESTION "Come Follow Me" Lesson 4: Why do we fast?

To download all YOUTH activities go to:
All "Come, Follow Me" Activities - Jan - Dec
See Young Women Activities on PINTEREST
To download all FAMILY HOME EVENING activities go to:
Source YW 2 #23
FASTING – Revelation: LDS Lesson Activity: Try Fasting with Pizza! "Why do we fast?" revelation