Lesson 21 – I Can Be Reverent
CTR-A, Ages 4-7
Use For: Sunday School – Primary Lesson, Family Home Evening, Sharing Time
TO FIND LESSON: Present Lesson 21 – Primary 2 Manual – CTR-A: I Can Be Reverent.
OBJECTIVE: The lesson helps encourage children to show reverence for Heavenly Father and Jesus Christ. Review the enrichment activity #3 (p. 112) in the manual for which the following activity illustrates.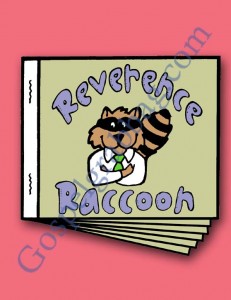 ACTIVITY: Reverence Raccoon Cap & Storybook
1. Children can wear this Reverence Raccoon cap as you talk about the importance of reverence and role-play reverent actions, e.g., folding arms for prayer, closing eyes, bowing head, and listening while the prayer is said.
2. The Reverence Raccoon Storybook shows ways to be reverent and happy at home and church. Children can act out the reverence actions in story.
3. Talk about Nephite children, how they showed reverence when around Jesus (3 Nephi 17:11–12, 21–24).

4. PLAY A MATCH GAME using the Reverence Raccoon visuals (shown right) using two sets of the book pages before assembling the book. Children can read the cards matched to review the book.
5. Use the Reverence Raccoon Chart (shown below, detailed in the Introduction).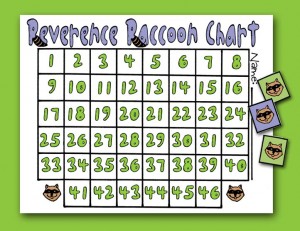 ALSO SEE THE REVERENCE RACCOON CHART to motivate reverence in the INTRODUCTION or LESSON 1 (shown left). Click HERE for details.
TO MAKE:
1. Using cardstock, copy, color, and cut out the cap and storybook.
2. To make cap, glue or tape sides together, matching parts A–C. Attach tail back to parts C and D.
3. To make storybook, staple pages together.
Activity is available in the Sunday Savers CTR-A book or CD-ROM. Click HERE to purchase or visit your nearby LDS bookstore.
THOUGHT TREAT (when appropriate): Raccoon "Eye" Love You Sugar Cookies. Frost round cookies with white frosting and place a black gumdrop in the center—serve two cookies each to complete the raccoon eyes. Talk about raccoons, how they are so eager to be clean, that they wash their food before they eat it. Say, "I'll bet they even fold their arms and bow their head when a prayer is said." Reverence Raccoon says, "Reverence Begins with Me!"
SHOW RACOON VIDEO: Funny and Cute Raccoon Videos 2014

MORE LESSON ACTIVITIES:
CLICK HERE FOR THE NEXT ACTIVITY: CTR-A LESSON 22 Blessed Are the Peacemakers.
CLICK HERE FOR THE PREVIOUS ACTIVITY: CTR-A LESSON 20 The Teachings of Jesus Christ Are a Great Treasure.
CLICK HERE FOR THE CTR-A TABLE OF CONTENTS.
Reverence – I Can Be Reverent, Primary Lesson Helps, Primary 2 CTR-A, Lesson 21